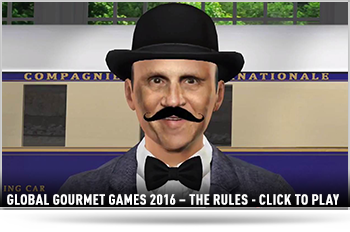 2016 Scoring System
ROUND
POINTS
Practice Quiz
0
Trivia Quiz 1
10
First Course Quiz
30
Premium Wine – Top 10 Qualifier
10
Trivia Quiz 2
10
White Wine Tasting
30
Trivia Quiz 3
15
Red Wine Tasting
30
Trivia Quiz 4
20
Main Course Ranking
30
Premium Wine Tasting
20/15/10
Surprise Quiz
30
Spirit Award
15/10/5
Dessert Ranking

100
TOTAL POSSIBLE POINTS:
350
The easiest way to learn the rules is to watch the nearby video of Global Gourmet Games friend and veteran, John O'Hurley.


For those of you with a slow internet connection or an inexplicable aversion to John, here's a quick primer. The evening consists of a series of competitions that test each table's gastronomic and oenological skills as well as their ability to answer diabolically difficult (and largely internet-search-proof) trivia questions. The contests include:
•

The Food Competition

: Our focus has always been on how easy it is to prepare delicious meals in healthier ways, and so our food questions are often based on nutrition. For instance, we may ask you to rank your courses by fat or calorie content.
•

The Red and White Wine Competitions:

Two players from each team taste a series of wines from around the world and answer questions about their countries of origin, composition and ratings.
•

The Trivia Quiz:

Quiz topics can range from math and science to ancient philosophy to geography to pop culture. The one quality all of our quiz questions have in common: they're exceedingly difficult. Not even Jeopardy champ Ken Jennings could lift his team to victory.
•
The Mystery Red Wine Competition

*

: Each team captain will submit a mystery bottle of wine. Choose carefully – your bottle will go head-to-head in a taste-test against other teams' entries. The 10 top-ranking bottles will then enter the final round where they'll be tasted by top sommeliers. The winning bottles will earn their tables special prizes and additional points.
Feeling intimidated by the challenge? Don't. The evening's designed to be fun and collegial, and most of the competitions are multiple choice. (If you're still worried, note that ringers – chefs, sommeliers and trivia buffs – are welcome.)
And – most important – it's all for a good cause.


*
Team Captains: Please remember to submit your Mystery Red Wine bottle no later than Wednesday, April 20, to:
LearnAboutWine | wineLA
Attention: Ian Blackburn
530 Molino Street #218
LA CA 90013